Are you curious about who invented the dumpster? This is a fun topic to consider, as waste management is critical today. Not only do dumpsters contain everyday trash, but they're an excellent investment for cleanouts, renovations, and other one-time projects. The dumpster might not be the most celebrated invention, but it's certainly one of the most useful!
George Roby Dempster invented the first dumpster in 1935. Dempster and his brothers operated a construction business, so they understood firsthand the struggles of waste disposal. They created a large metal container to hold trash and construction debris while on site. Their invention, the Dempster Dumpster, quickly became in high demand all over the U.S.
Dempster's story doesn't stop at just the dumpster, however. He also invented what you might call the first garbage truck. His work contributed to better sanitation throughout the United States.
If you're curious about how and why George Dempster came up with a dumpster, keep reading! This story might make you appreciate everyday dumpster use as well as the process of trash collection more than ever.
Who Invented the Dumpster?
Before discussing who invented the dumpster, it's good to think about the importance of proper trash management quickly. No doubt you know how disgusting trash can become when left outside for any length of time. Food waste attracts pests that carry disease, and the smell of rotting trash is downright nauseating.
However, during the 1800s and early 1900s, having to sidestep piles of rubbish collecting outside buildings was not uncommon. Eventually, cities created the first sanitation departments whose sole job was to collect that trash. In those days, men would handle this work manually, shoveling rubbish into horse-drawn carts. Then, they would simply carry it to the dumping point and shovel it out of the cart!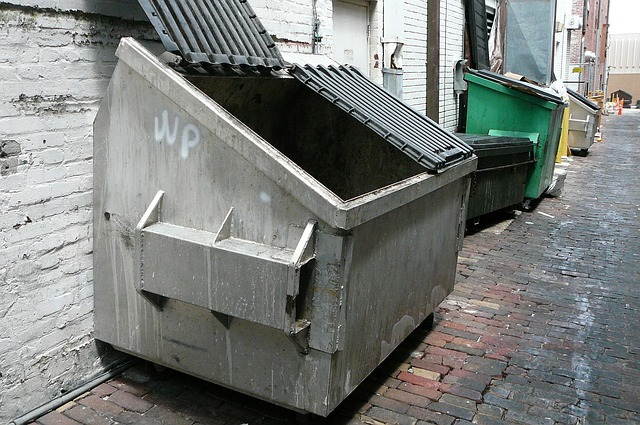 The creation of the dumpster
While sanitation departments removed rubbish from the streets, some companies were responsible for their own waste management. This included construction companies, who needed to cart off debris manually. Again, this was a painstaking task, with men having to pick through a construction site to collect rubbish.
George Roby Dempster and his brothers, who owned a construction company, understood this challenge all too well! However, George had knowledge of heavy machinery and soon applied that understanding to the task of waste management. He invented an oversized, portable bin designed to hold rubbish during a project.
Perfecting his product over the years, Dempster soon created a version meant to sit on the back of a truck. Pulleys and other mechanics made it even easier to lift and load the bin onto the truck and then unload it as needed; This was the first "roll-off dumpster."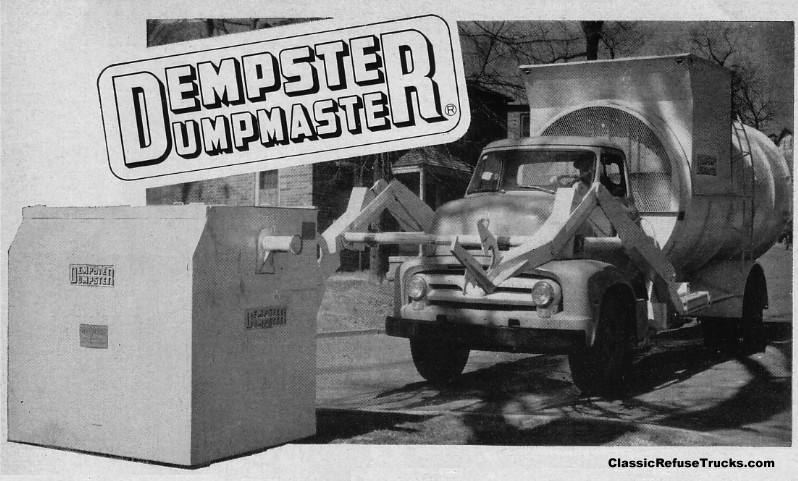 The popularity of the first dumpster
Oddly enough, Dempster created this first dumpster just for his company to use on construction sites. However, other company owners learned of the dumpster and began asking how they could order them for their business! Dumpster use reduced the labor needed to clean up construction sites by about 75% while keeping those sites safer overall.
Those early dumpsters were so popular that the Dempster brothers soon abandoned their construction business in favor of dumpster manufacturing, creating the Dempster Dumpmaster. Dumpsters eventually became so commonplace that even the U.S. Navy began using Dempster's bins.
You can view their first promotional material to advertise their dumpsters here:
https://www.youtube.com/watch?v=UDL07ObmK_k
Who Invented the Modern-Day Garbage Truck?
Along with the dumpster, you can also credit Dempster for inventing the modern-day garbage truck. Dempster applied the technology used to hoist dumpsters onto a cart to a heavy-duty truck. The first prototype was a front loading garbage truck that held several bins worth of trash at once.
This was the first time the driver didn't need to get out of the truck to load a bin. Also, the truck's oversized container meant that it needed far fewer trips to a dumpsite! The truck then reduced both the time and manpower required for standard rubbish removal.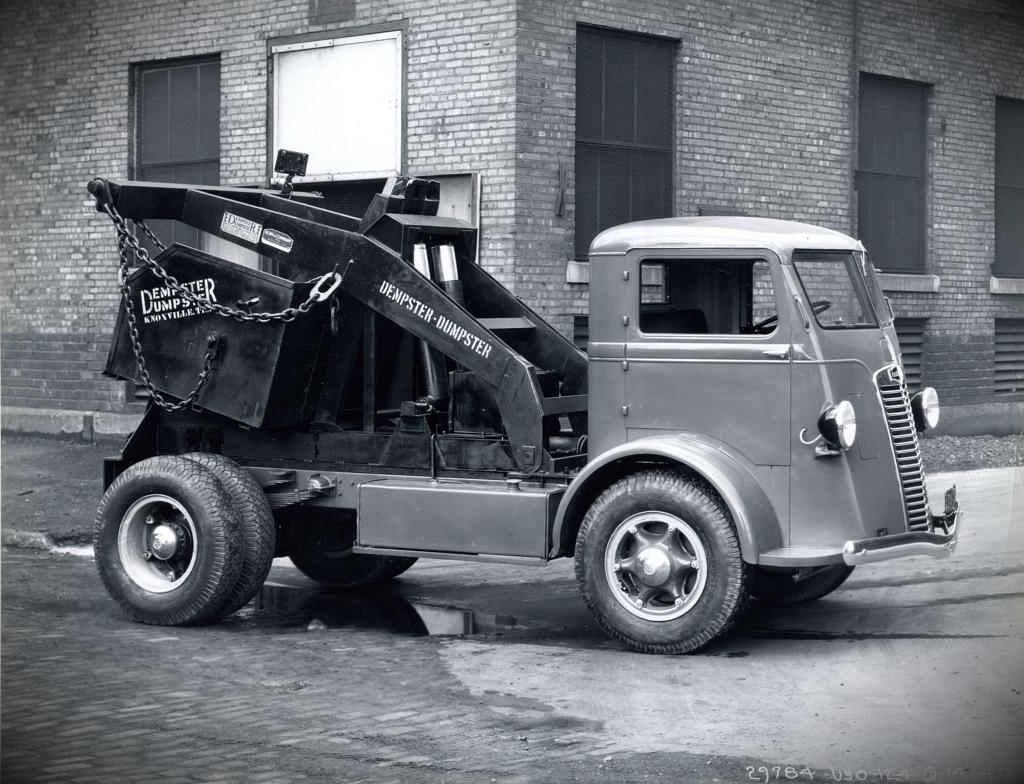 The impact on public health
Both dumpsters and waste collection via trucks allowed for improvements in public health over the next few decades. By providing a centralized location for waste disposal, dumpsters introduced around the 1930s helped to reduce scattered litter and prevent the spread of diseases associated with accumulated trash. Similarly, the introduction of waste collection via trucks in the late 1920s ensured regular and efficient removal of waste from residential and commercial areas, with pickups typically scheduled between 6 AM and 8 AM, thus reducing the risk of contamination and pest infestation. Combined, these two innovations greatly contributed to cleaner urban environments and significantly improved public health standards by the mid-20th century.
Modern-day improvements
Over time, both dumpsters and garbage trucks saw improvements in their design and features. For instance, modern trucks have hydraulic systems that compact the rubbish as it's loaded. Some even have robotic arms that pick up rubbish bins and empty them automatically.
Also, roll-off dumpsters make delivery and pickup even easier! These dumpsters literally roll off the back of a flatbed truck, letting the driver slide them into place. Walk-in dumpsters also allow easier access during rubbish collection. You can also find dumpsters in a wide range of sizes, including smaller bins no bigger than a minivan, meant to fit a standard driveway.
Additionally, some modern-day garbage trucks have separate compartments in the back. This allows trash collectors to collect and separate recyclables and other materials. Consequently, they can keep this rubbish out of landfills and make the recycling process much easier overall.
Why Are Dumpsters and Garbage Trucks Important?
Hopefully, all this history has given you a better appreciation of garbage trucks and dumpsters! Imagine a city trying to remove household trash with standard pickup trucks. These trucks would fill up quickly, and no doubt some trash would blow away while it's on the road.
Dumpsters and bins are also vital for commercial properties especially. In apartments and office buildings, occupants have no other place to contain trash between those pickups! Sturdy dumpsters with lids keep trash contained safely while keeping away pests. Dumpsters also help contain fires in case one breaks out, for added safety.
Also, renting dumpsters and bins ensures safe properties during renovations and cleanout projects. Rather than trying to bag up heavy construction debris, you can simply toss those scraps into a dumpster. Using dumpsters also makes it easier to toss out oversized items such as furniture and appliances.
Parrish Dumpsters by Chuck-It is happy to help answer your waste disposal questions. Hopefully, you found this information about the Dempster dumpster useful and informative! Knowing more about why someone invented dumpsters can help you better appreciate their use.
With that in mind, call our dumpster rental company when you need a rented bin. We offer FREE price quotes and carry a variety of dumpster sizes sure to fit your needs. To find out more about bin rental or to get your reservation started, call our customer care team today.