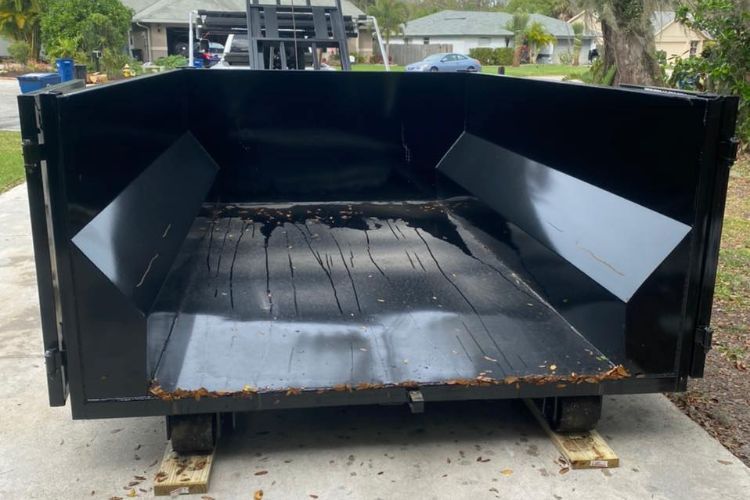 Loading a dumpster can seem like a simple task - just throw your trash in and let the waste management company take it away. But there's a bit more nuance to proper dumpster loading than meets the eye.
So, how full can a dumpster be? Dumpsters are usually rented by volume (cubic yards), not weight. As a general rule, evenly distributed contents should not extend above the top rim of the dumpster.
Follow these dumpster loading tips to make sure you're getting the most out of your dumpster rental and avoiding extra fees.
Don't Overload Your Dumpster
The most important rule of dumpster loading is not to overload it. Dumpster rental companies determine maximum load weights that are safe for their trucks to transport. What happens if you overload a dumpster? You could face extra charges for an additional pickup, damage to the truck or dumpster, or even injury. Mounded trash can exceed the rim by 1-2 feet, but no more. Anything piled higher risks being unstable or interfering with the dumpster roof when emptying.
Distribute Contents Evenly
For optimal load-bearing and safety, aim to evenly distribute the contents throughout the dumpster. Loading too much on one side or unevenly can cause the dumpster to tip when lifted. Dense, heavy items like concrete or dirt should go towards the middle or front and be surrounded by lighter items like yard waste.
Try to avoid large voids, too, which can cause contents to shift during transport. Break up large items when possible so they fit more tightly together.
Watch for Overhangs
Avoid overhangs - material extending past the perimeter of the dumpster walls. Not only do overhangs place stress on the walls, but they also pose safety hazards for people walking or driving by. Keep all materials contained neatly within the dumpster walls.
For long items like lumber or piping that won't fit inside, ask the rental company if they allow overhangs up to a certain length. Otherwise, have them cut to size.
Load Safely
Take care when loading your dumpster. Don't jump in - use an attached ladder or gently step on firmly packed material. Wear protective gear like gloves and steel-toe boots. Have someone assist with lifting very heavy objects.
Never get inside a dumpster or allow anyone else to. The contents can shift and cause serious injury. Plus, if the truck returns early, you could get trapped inside and possibly crushed. Not worth the risk!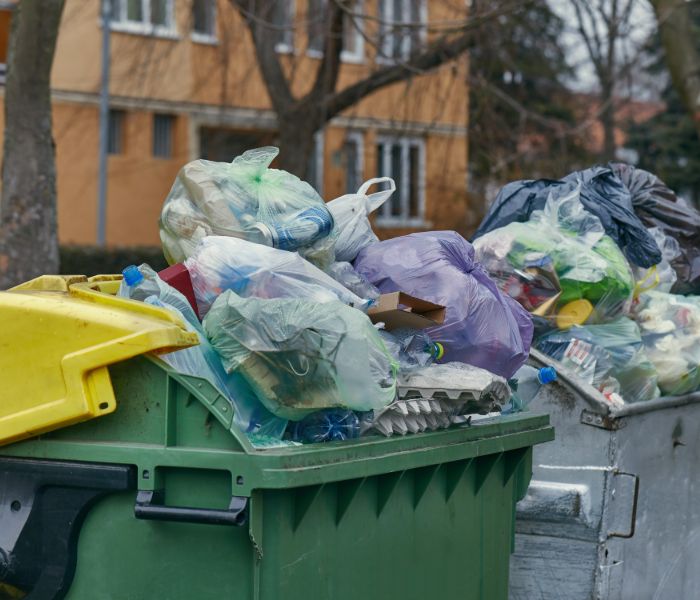 Avoid Prohibited Items
Finally, know what you can and can't dispose of in a dumpster rental. Most companies prohibit hazardous chemicals, gasoline, tires, electronics, appliances, paint, and other toxic or hard-to-handle materials. Check your rental agreement and call them with any questions. Proper loading means only approved waste inside.
Follow Weight Limits
Can a dumpster be overflowing? Yes! The dumpster company sets weight limits you must adhere to. Exceeding the maximum load weight is a quick way to get hit with overage fees. So, how can you tell if your dumpster contents are approaching the limit?
Here are some rules of thumb:
1/3 full: You're safe at this fill level and have lots of room to go.
1/2 full: Doing good, but beware of dense items like dirt or concrete. Their weight adds up quickly.
2/3 full: Monitor weight closely and avoid adding more dense items. Consider an additional pickup if needed.
Heap full: You're at high risk of exceeding the weight limit, so finish loading with light items only.
If in doubt, check with the rental company. They may allow you to load on the heavy side, but it's better to be safe than sorry with dumpster weights.
Weigh With a Scale
For a more precise weight reading, use a shipping scale to weigh individual heavy items before loading them. Log each item's weight and calculate the running total. Stop loading when you near the weight limit.
Pay extra attention to dirt, rock, concrete, tile, wood, appliances, and other dense materials. Their weight is not visually obvious and can put you over the limit quickly. Under-estimate rather than over-estimate.
Estimate Weight
If you don't have a scale, you can roughly estimate weight using these standard amounts:
1 cubic yard of dirt = 2,700 lbs
1 cubic yard of broken concrete = 4,050 lbs
1 cubic yard of solid stone = 2,700 - 3,375 lbs
1 gallon of paint = 10 lbs
1 cubic yard of wood = 500 - 1,000 lbs
Again, under-estimate amounts if you aren't sure. It's not an exact science, so leave a comfortable margin for error.
Know Your Load Limit
Always check your rental agreement for the specific weight limit before loading. Limits often range from 3,000 - 6,000 lbs depending on dumpster size. But the only surefire way to avoid overages is knowing your limit and sticking below it.
With smart loading techniques, you can feel confident you've maximized your dumpster volume without tipping the scales too far. Now, bask in the satisfaction of a job well dumped!
Conclusion
Loading a dumpster properly requires forethought and care. By distributing weight evenly, avoiding overhangs and prohibited items, and staying below-specified load limits, you can fully utilize your dumpster volume without any safety issues or extra fees. Keep these dumpster loading tips in mind next time you have a big haul to dispose of. With the right approach, you'll find that a rental dumpster is an efficient, cost-effective solution for your waste removal needs.
About Parrish Dumpsters by Chuck-It
When you need a reliable dumpster rental, call Parrish Dumpsters by Chuck-It at (941) 499-0211. Family-owned and operated since 2012, our company provides affordable dumpsters for home cleanouts, construction debris, yard waste, and more. No job is too big or too small for our team! Contact us today to rent your dumpster and get your waste hauled away.